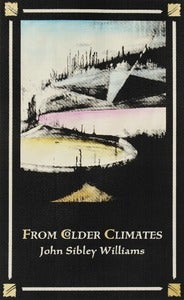 $

7.00
by John Sibley Williams
ISBN 978-1-61019-206-4 (Green Edition)
ISBN 978-1-61019-904-9 (Signature Edition)
Green Edition $6.00 + $1 shipping
Signature Edition $12.00 + $2 shipping
e-book list price $0.99
In this poetry collection, John Sibley Williams explores the inner and outer landscapes encountered on a journey to Iceland. As with physical landscapes, surprising perspectives are revealed by each step. Lava and ice, civilization and wilderness, family and solitude--these apparent contradictions collide inside poems which beg to be read aloud, just as their Nordic ancestors were around Iceland's first man made fires.
Physical description:
24 page chapbook
5.5 x 8.5 inch
Release Date: 7 January 2012
Green Edition is constructed with green parchment cover, 100% recycled paper text block, and staples.
Signature Edition is an archival-quality, hand-crafted, numbered chapbook. Production is limited to 50 copies, constructed with hand-stitched binding, calligraphy cover, and creme 25% cotton paper.
Excerpts and other multimedia fun associated with this title will be available soon on our chapbook blog
Worldwide shipping is included in the price of all options. Options include: green edition, signature edition, signature edition, and e-book only. For e-books, please indicate whether you would like .mobi or .epub format in the comments at checkout. We will e-mail you the e-book file as soon as the title is released and your order is processed.